Thursday, May 17, 2012
Once again the folks at
Retronaut
have dug up some cool vintage stuff! Here's how to hunt for a husband ladies!
Courtesy of How to be a Retonaut and That's My Skull.
Wednesday, May 16, 2012
On our search for some awesome specs for this spring we came across some pretty amazing Ray-bans. They're
Ray-Ban's 5226
eyeglass collection and come in five prints, I chose the striped avana RB5226-2144. You can't get them directly from the Ray-Ban site but you can find them on amazon or other optics websites. I love these because they're cat eye frames and I won't be afraid to use them since they aren't any of my favorite authentic vintage frames! Even though they are Rx frames I got nonprescription green lenses put in, just in time for these warm sunny days! What are your favorite summer time specs?
Tuesday, May 15, 2012
I know it's a little early to announce it but hey I like to plan ahead! I'm excited to present to you the
Ink-N-Iron
festival in Long Beach, California. It's got a bit of everything for everyone, whether you love: Kustom cars, burlesque, tattoos, art, fashion, music, food, or all of the above, this is the place to be. The festival is three days from June 8 to the 10th at the Queen Mary. The ship as well as the dome and surrounding area will be taken over, for three days of tattoos, and beach side fun!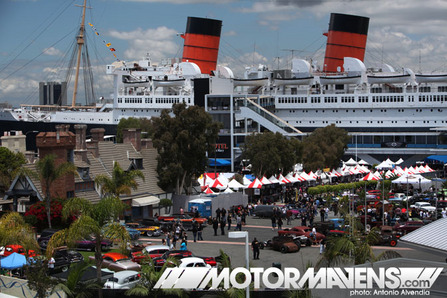 This year the band line up/ schedule is like this:
Friday June 8
Observation Bar Soirée
Red Skunk Jipzee…..12am-1am
MAIN Stage
Suicidal Tendencies………..10-11:30pm
Corrosion of Conformity …….9-9:45pm
TSOL………………………….8-8:45pm
Torch………………….……7:15-7:50pm
Long Beach Vagrant…………….6:30-7pm
Black Cobra………………..5:45-6:15pm
Tiki Drive-In Stage
Undead Vampire Collection…8:30-10:30pm
Sin Alley
Pleasure Portal Cabaret-………12:50-1:50am
International Pole Performer Showcase……11:45-12:45am
Los Shimmy Shakers………………10-11:30pm
The Avenues……………………….9-9:45pm
Queens Salon
Tattoo Contest…………6:00-7:30
Best Tribal
Best Traditional
Best Japanese
Best of Day Friday………9:00-10:00pm
Saturday June 9
MAIN Stage
TBA..……………….....…10:25-11:45pm
TBA…………………..…..9:20-10:05 pm
Misfits ………………………….8:15-9pm
She Wants Revenge …….......…7:15-8pm
The Mission Creeps ….......……6:15-7pm
Adolescents..…………….....……5:15pm
Slackers….…..…..……….....…….4-5pm
Aggrolites………………….….…….3pm
TBA……..……………...............…..2pm
TBA………………..……….………1pm
Rezurex…………………………….12pm
Tiki Drive-In Stage
Undead Vampire Collection.......8:30-10:30pm
Legendary Shack Shakers…..................7-8pm
Lil Red and the Howlin' Wolves…..6-6:45pm
Bo Porter……………….5-5:45pm
Awards Ceremony…………4-5pm
Shake Before Us …………3-3:45pm
Pine Box Boys …..……..2-2:45pm
Red Skunk Jipzee ………..…..1pm
Dirt Daubers ….…………….12pm
Sin Alley
Pleasure Portal Cabaret …...................……12:30-1:30am
International Pole Performers Showcase....…11:15-12:15pm
The Palominos…………………............…..10-11pm
Dave Alvin………………………….......…..9-10pm
Marti Brom….………………………………….8-9pm
Pat Roberts& the Heymakers……………….7-7:45pm
Pleasure Portal Cabaret………………............6-7pm
International Pole Performer Showcase ………….5:20-6pm
Los Shimmy Shakers……………….4-5:15pm
Queens Salon
Tattoo Contest………….5:00-7:00pm
Best Black & Gray – SM
Best Black & Gray – LG
Best Arm/Leg Sleeve
Best Portrait Black & Gray
Best Portrait Color
Best of Day Saturday……10pm
Sunday June 10
MAIN Stage
Pennywise..……...….8:30-10:00pm
Face to Face..……...…7:10 -8:10pm
Punk Rock Karaoke…..…6-6:50pm
Pin Up Pageant………......5-5:40pm
Polecats………………..3:45-4:45pm
Quakes…………...…..2:30-3:30pm
Koffin Kats.………......1:30-2:15pm
The Avery Wolves….12:30-1:15pm
Tiki Drive-In Stage
Voo Duo……….……....…..6pm
Thee Merry Widows …....…5pm
Kings of Hell…………….…4pm
Stephen Rey & the Slicks…..3pm
Raygun Cowboys…….....….2pm
Low~Volts…………....……1pm
Los Bandits…………......….12pm
Sin Alley
Pleasure Portal Cabaret …………7-8pm
International
Pole Performer Showcase ………6-7pm
Los Shimmy Shakers…..…4:50-5:50pm
Queens Salon
Tattoo Contest…………….4:30-6:30pm
Best Back/Chest Panel
Best Color – SM
Best Color – LG
Best Overall Male, Best Overall Female
Best of Day & Best of Show…………..7:30-8:30pm
Aerial Show Times:
Fri 9:30p Main Stage
Sat 3:50p 6:50p wharf & 9:50p Main Stage
Sun 3:45p wharf & 7:50p Main Stage
I went a couple years ago and I'm making it my mission to go this year. My favorite part is the car show! I had a blast... didn't get tattooed but we'll see what happens this year ;)